Families work to help pandemic pets cope without mom, dad | Lifestyle
After more than four months of interrupting mom's Zoom calls, pulling dad around the block…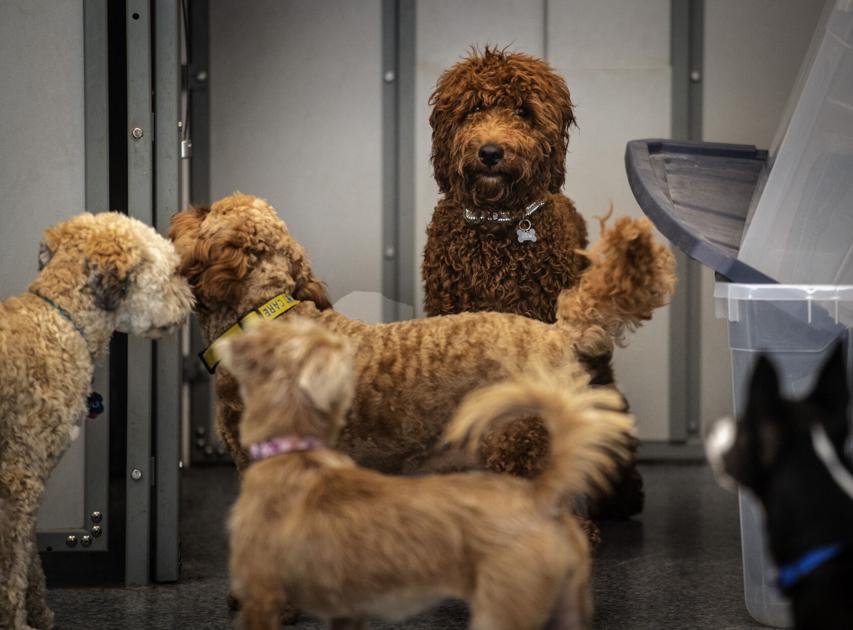 After more than four months of interrupting mom's Zoom calls, pulling dad around the block and napping in earshot of his two-legged parents, Pluto was buckled up in the back seat of a car en route to his first solo adventure.
He laid down with his tongue out and watched the trees whiz by from the window until the car stopped about 10 minutes later.
"Oh my gosh, Pluto, you're going to have so much fun today," Katt Ortiz-Manalo Aubry recalled saying from the passenger's seat. Her husband, Robin Aubry, looked at him through the mirror.
The car door opened, and the seven-month-old Irish Doodle bounded to the front door of Patrick's Pet Care, a "dog Montessori school" that focuses on each pup's "physical, mental and emotional needs."
The idea, the Aubrys had discussed over many months, was for Pluto to become accustomed to time without them before they hope to return to the office and start teaching yoga in-person this fall.
But as the 30-pound ball of fur sniffed around the door of the day care in Washington D.C., the couple couldn't help but wonder how he'd fare on his own. And just as daunting, they realized in that moment, was how they would get through their day without him.
Dogs, once the source of pandemic joy for so many people like the Aubrys, are presenting new challenges now that recovery from the coronavirus remains largely underway. Over the last several months, dogs have gone from highly sought-after (and highly effective) coping mechanisms in quarantine to codependent creatures who've made it hard for humans to fulfill social and professional obligations to their own species. If vaccine uptake can successfully slow the spread of the delta coronavirus variant and allow employers to institute more formal in-person work requirements after Labor Day, that friction between the needs of pets and people is only expected to intensify.
To that end, pup parents have said they are using the summer to prepare their four-legged companions (and themselves) for a more independent fall. Those who can afford it are booking out dog day cares months in advance and enrolling in separation anxiety courses. One woman said she is looking to change her work hours to maximize the time each day that either she or her roommate are home with their five-month old puppy, Surf.
For Pluto and his parents, acclimating to dog day care started July 21, exactly 4 months and 15 days after they first laid eyes on him.
The Aubrys had wanted a dog for years, but it wasn't until they relocated in January from Los Angeles to D.C. that they decided it was time. A combination of moving-related stress in the wake of the Capitol insurrection, a traumatic carjacking experience and exhaustion after a year of quarantine made the joy of a puppy even more desirable.
On March 6, the couple drove to a farm in Pelham, North Carolina. They were waiting at a picnic table when they saw him: a tiny creature with auburn fur, ears that flopped in the wind and a wet black button nose. The shiest of the litter, he rested his head on Katt's chest within moments of meeting her and quickly fell asleep.
They named him Pluto, which in Roman mythology, represents transformation.
"It's associated with rebirth for me," Katt Aubry said. "It felt like a new life chapter for me, for Robin, for us together."
That new chapter, as they affectionately call it now, quickly became Pluto's World.
For Pluto's first full week at home, the Aubrys took turns sleeping on the floor next to the crate to make sure the puppy had enough company to comfortably fall asleep. When they had enough spending the night next to his crate on the living room floor, they bought another, smaller crate that fit comfortably in their bedroom.
They found the perfect lullaby on YouTube – "12 hours puppy sleeping music" – that prepared him for naptime. And the first time the couple ate at a restaurant, they brought Pluto's mini play pen, blanket and freezer lunch box so his dog toys stayed cold.
Through all this time, the Aubrys worked from home, which meant Pluto was hardly, if ever, by himself. The only time they can recall leaving him at home alone for more than a half an hour was when Katt accidentally locked herself out of the apartment.
But Katt and Robin Aubry – she a fellow at an impact investing firm, and he a Foreign Service officer at the State Department – understood Pluto lacked experience in the "alone time" department and hoped he would one day be independent enough to handle travel and maybe even a move overseas. They studied videos online about how to treat separation anxiety in dogs, and at one point, intentionally left their apartment for 10 minutes to ease Pluto into solo time.
Those 10 minutes were disastrous.
They watched on their dog monitor camera as Pluto lost a toy under their bed, swiveled his head around, realized he was all alone and launched into a fit of ferocious barking. It went on for so long the neighbor texted to ask if Pluto was okay.
"He just freaked out," Katt Aubry, 31, said.
A dog dependent on constant company like Pluto has become increasingly inconvenient as in-person social life resumed this summer. And many people, including the Aubrys, fear it will be nothing short of impossible if in-person work resumes in the fall.
The CEO of Morgan Stanley said at an investment conference in June that he will be "very disappointed" if his employees don't return to the office by Labor Day, CNN reported. Many Congressional staffers, barring a significant uptick in the delta variant, are expected to return to Capitol Hill full-time after August recess. And a June survey by the Partnership for New York City, a nonprofit made up of business leaders and companies, found that employers expect 62% of office employees expect to return to the office by the end of September – a 37% increase from March estimates of 45%.
Across the country, parents prepping their pets have spiked demand for doggy day care services.
In Chicago, PUPS Pet Club matched its pre-pandemic monthly revenue for the first time in June, a steep recovery after they closed three of its four locations last year due to lack of business. In California, Bow Wow Bungalow grew its staff by 30% over the summer to accommodate new customers. And in D.C., Patrick's Pet Care has a three-month waitlist for the first time in its six-year history. They had to temporarily block their phone system to keep up with the volume of calls.
"My clients are going back to work or expecting to go back to work, and they realize they can barely go to the grocery store without their dog," said Toni Woods, a certified separation anxiety trainer who owns Spot On Dog Training in Washington.
As the Aubrys left Pluto alone for his first day of school, they wondered how their pup would get through the next eight hours.
Throughout the day, general manager Emma Teller observed Pluto for a behavioral assessment that would decide if he was a long term-fit for her Montessori school.
The assessment started off on the right paw. Pluto leaped and bounded around the small group playroom, greeting new dogs one-by-one with appropriate levels of sniffing. He went to the bathroom on the designated patch of turf grass decorated with a fire hydrant. When it was time for a "rambunctious yet focused" game of "come," Pluto followed cues with aptitude and enthusiasm.
But Pluto's performance took a turn when it was time for "structured down time." Teller tried to ease him into his faux marble-covered crate through a series of one-minute exercises, but as soon as she disappeared from his eyesight only one minute in, his yelps filled the facility. He barked, panted and drooled until she unlatched the door just a few minutes later.
"He basically tried to hug me with his paws," Teller said. "He's a covid baby. He has great confidence in life with everything but alone time."
Pluto wasn't the only one who struggled that day. Between meetings, Katt Aubry caught herself looking over at her pet's empty dog bed by her desk and missing the pitter patter of his footsteps around the house. Every few hours, she checked the live camera at Patrick's.
"I wish I could have put the video in the background, plugged my HDMI into the TV and had it on all day," she said.
By 6 p.m., the Aubrys were more than ready to lay eyes on their furry friend. They waited in the pickup line outside of Patrick's and met the parents of a goldendoodle named Banana, whom they recognized as a follower of Pluto's Instagram (@ItsPlutoThePup).
They had just stepped through the glass door when they saw that auburn fur and moist button nose bouncing toward them.
"Did you have a good day today?" Katt Aubry asked Pluto, bending down to his eye level. "Did you have a fun time?"
He wagged his tail.